We have a new seminar: Taking Charge of Your Retirement.
Sign up now!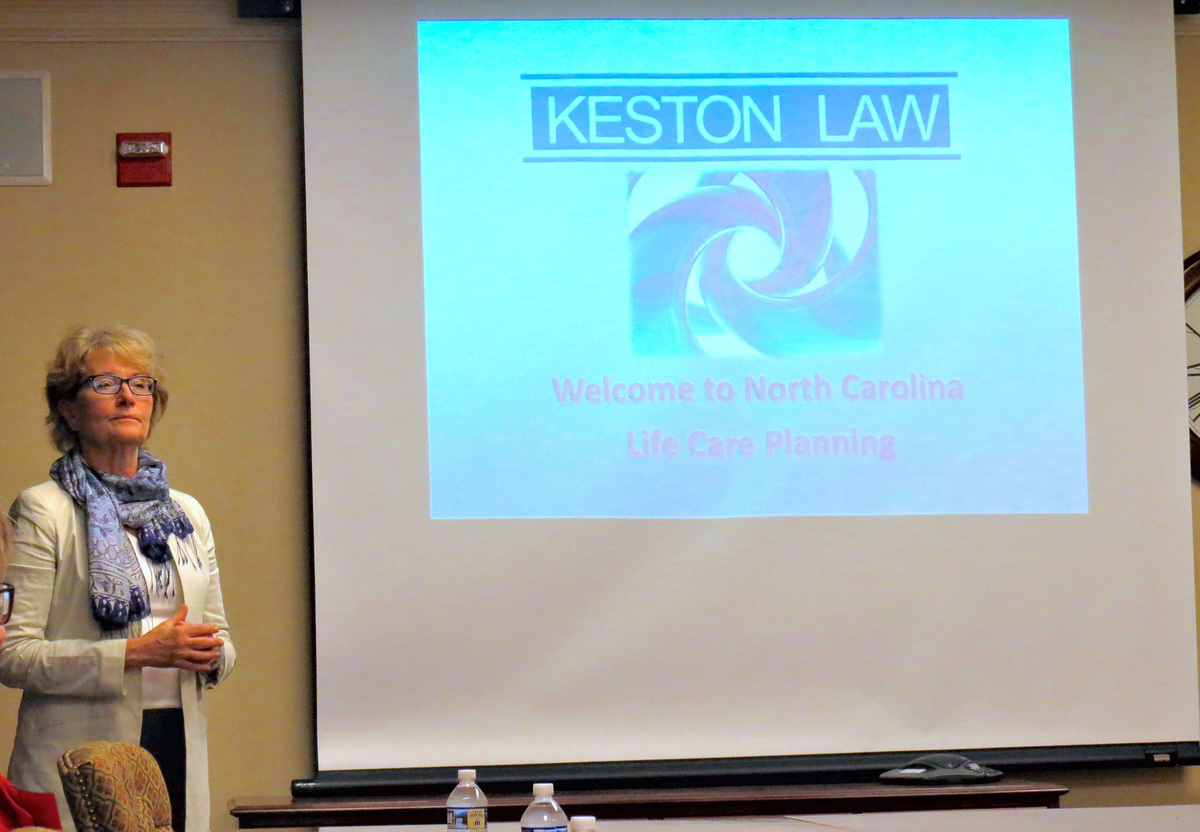 WE OFFER FREE EDUCATIONAL SEMINARS ON A MONTHLY BASIS IN BOTH WILMINGTON AND SOUTHPORT! They are open to any interested party with no obligation and are FREE of charge. We limit the group size so that your general questions and concerns can be addressed. Our hope is that those in attendance will better understand the options that they and their loved ones have when planning for the future.

Life Care Planning, an Integrative Approach to Elder Law, Estate Planning and Asset Protection, Presented by Joan Keston

Elder Law concerns planning for different situations that may arise in the second half of your life and providing for long-term care needs.

Estate Planning concerns the distribution of your assets according to your wishes upon your death.

Asset Protection protects your assets in a manner so that they can be used for your long-term care needs and special needs with maximum efficiency, and, depending on your wishes, provide for your heirs, pets or favorite charity. (Note: Middle class individuals need this as much as wealthy individuals.)
Statistics are telling us that we will all live much longer due to medical science. However, many questions arise that we all should try to answer. A few to consider might include:

I/we just moved to North Carolina, do we need to redo our Wills and Living Wills?
Who will make decisions for us when we no longer can?
What standards do we wish regarding the quality of our lives as we age or become incapacitated?
How will we pay for our long-term care needs?

In Wilmington, the hourly rate for a licensed home health aid can range from $17 to $21. Annually, home health care in this area can cost over $40,000, depending on the quality of care and frequency of services provided.
The median annual rate for a private room in a nursing home in this area is over $80,000.

Will Medicare pay for my health care needs?
Can I qualify for Medicaid or VA Benefits?
Should I have a Trust or Will?
Can I get long-term care insurance?
Who is the right person to be my financial agent? Health care agent? Trustee?
When do I need to do this?
How can we best protect our loved one with special needs, and not jeopardize their eligibility for government benefits?

Where and When
Landfall Executive Suites, 1213 Culbreth Drive, Wilmington
**behind the Northeast Regional Cape Fear Library
FREE, Limited Attendance, RSVP to 910-509-7121
August 20, 2019 2:00-4:00pm
October 22, 2019 4:30-6:00pm

December 4, 2019 4:30-6:00pm
Town of St. James Community Center, 4136 Southport-Supply Road, St. James
**across from the main entrance into St. James Plantation
FREE, Limited Attendance, RSVP to 910-509-7121
August 22, 2019 2:30-4:30pm
October 30, 2019 2:00-4:00pm

December 6, 2019 2:30-4:30pm